Brotherhood drives the Iowa State linebacker room
In November 2021, Iowa State football was set to take on No. 13 Oklahoma on the road.
The Cyclones were 6-4, and the Sooners were 9-1, boasting offensive weapons like dual-threat quarterback Caleb Williams or Philadelphia Eagles signee Kennedy Brooks.
In the face of these threats, Iowa State was without a key member of the vaunted defense that has made the Cyclones a contender in the Big 12 conference.
Linebacker O'Rien Vance, who had already missed two games so far in the season, was out against the Sooners.
Starting in his place was reserve linebacker Gerry Vaughn. Vaughn was a veteran in the Iowa State program at the time, but prior to 2021, he hadn't received any starts on defense.
Against Oklahoma in November, Iowa State scratched and clawed in the competitive conference game but came one touchdown short after a late interception on fourth and ten.
But in the 28-21 loss, Vaughn was great. In fact, the redshirt junior from Atlanta, Georgia, earned a career high of eight tackles and one-half sack. Trusted with the task of stepping up to the plate to perform in a pivotal conference game, Vaughn had overwhelming support.
"I've always been Gary's biggest fan," Vance said. "Regardless of the circumstances, like all of the linebackers, I'm rooting for him, if nobody else is."
Vaughn received his first starts of his career earlier in the year against Iowa and UNLV. Again, it was Vance's absence due to injury that vaulted Vaughn into the starting lineup.
Before the matchup with Oklahoma, Vance grabbed his backup and reassured him with a smile that he's ready to "ball out."
Vance knew, after being a first-hand witness to the work ethic of his understudy, Vaughn was ready to go.
It meant a lot, Vaughn said, to have this kind of support coming from the regular starter at the position, and when Vaughn grabbed his 0.5 sack against Williams, he celebrated with All-American linebacker Mike Rose and the entire Iowa State defense.  
Moments like these against Oklahoma stand out when the pair of Iowa State linebackers reflect on what the position group has. But every day, players have felt something more significant than on-the-field chemistry: brotherhood.
"I feel like we have a deeper bond and brotherhood," Vance said. "More than just, 'that's my teammate.'"
Vaughn and Vance will play alongside one another for a fifth season at Iowa State in 2022. Starting in 2018, Vaughn played just two games on special teams, received a redshirt and earned an extra year of eligibility while Vance was a reserve linebacker.
Vance earned Honorable Mention All-Big 12 honors in 2019 and now, in 2022, when the Cyclones kick off the season Sept. 3 against Southeast Missouri State, the pair will start alongside each other.
The linebacker room at Iowa State has developed a culture of support that's allowed young linebackers to easily learn and grow on the field.
Brotherhood is passed down in the Iowa State football linebacker room, directly from the faces familiar to Cyclone fans that transformed the trajectory of the program.
Vaughn felt it right away when, like when Vance was his host on his official recruiting visit, Vaughn was a three-star recruit in the class of 2018 from Tucker High School in Georgia. He received 15 offers but made just one official visit, and that was to Iowa State.
After arriving in Ames, the energy in the linebacker room helped Vaughn not to be intimidated working under a long list of athletes on the strong Iowa State defensive unit.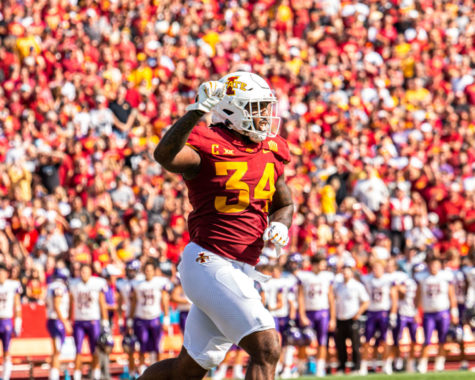 Instead, as Vaughn put in work mainly on special teams in his freshman and sophomore years, he learned and grew.
And as Vaughn was miles away from home and living in Ames without a car, he felt he could call the older members of the program anytime for anything.
"You're able to take that constructive criticism from a brother and know it's coming from a good place," Vaughn said. "Some other teams can't say the same."
"We just love being around each other."
Vaughn's growth now culminates with him being a starter in the linebacker unit this Fall.
Vance also returns for another season in a bigger leadership role this time. Iowa State will be without the All-American linebacker Mike Rose and Jake Hummel this season. The Cyclones also lose defensive leader and hybrid safety Greg Eisworth.
For this reason, Vance decided to not make his injury ridden 2021 season his last. After weeks of contemplation and consulting with family members and teammates, Vance decided to return to Iowa State for a sixth year.
Leaving the program after the key leadership pieces would be a disservice to teammates and coaches that have done a lot for Vance over his career, he said.
The Iowa State defense needs his leadership, and that's why the senior is back. The brotherhood will be back too.
"That's something that has been ingrained in the LB room," Vance said. "I don't see us losing that anytime."
The 2017 season was Iowa State football and head coach Matt Campbell's breakout season on the national stage. In 2016, the Cyclones went 3-9 but, in the second season for Campbell, offensive coordinator Tom Manning and defensive coordinator Jon Heacock, things were quickly changing.
In the middle of this season maybe no one was playing better than linebacker Marcel Spears. Spears was showing off versatility on defense, and in games against Texas Tech and TCU, Spears caught two game-changing interceptions.
These were another pair of moments that encapsulated the culture that was in the process of being created within the Iowa State linebacker room, according to Vance and Vaughn.  
"Willie [Harvey], Marcel [Spears], Joel [Lanning], those guys, they created a vibe and an energy in the room that made it feel like family," Vance said. "They made it feel welcoming to the point where you could only just keep it going."
At the time, Willie Harvey, Marcel Spears and former quarterback Joel Lanning made up the linebacking corps for Iowa State. Lanning, after playing four years as a quarterback, was leading the defensive unit.
Vance, as a true freshman from Cedar Rapids, Iowa, was redshirting during the 2017 breakout season. Vance was learning on the field and developing himself and his leadership tendencies.
"He [Marcel Spears] was one of those people where I genuinely feel like he helped change my life as well as my career path," Vance said.
Speaking to reporters on the first day of Fall camp prior to Vance's sixth and final collegiate season, coach Campbell described Vance as the epitome of leaders in the Iowa State program.
"A healthy O'Rien Vance is huge for Iowa State football," Campbell said.
When O'Rien Vance speaks, everybody listens, according to Campbell, and the redshirt senior's leadership spans beyond the defensive side of the ball. Vance has the ability to bring the whole Iowa State team together, according to linebacker coach Tyson Veidt.
Veidt has worked with Iowa State linebackers since Campbell's first season as head coach in Ames. Coach Veidt's linebackers have earned All-Big 12 accolades 14 times since he followed coach Campbell to Ames after coaching linebackers at Toledo.
"We're all committed to serving the best mission of the team," Veidt said, "which is trying to create leaders not just for what we are doing here."