Anthony Johnson returns to Iowa State for one final challenge
One word that's been a focal point during the football preseason is "trust."
Trust is something that's hard to come by, but it is absolutely essential for a great leader. One player who embodies the idea of trust and has made a name for himself as a leader over the years is Anthony Johnson Jr.
The senior safety switched positions from cornerback for one last ride with the Cyclones. Johnson's purpose in life has been to help others, and now he gets one last chance to better those around him as Iowa State prepares for the season.
What makes a leader
Johnson has been a cornerstone of the Cyclones' defense throughout his time on the team. During his time as an elite cornerback, Johnson earned the trust of the rest of the team and is now carrying his leadership into his new role as a safety.
"He's done everything to really get the trust and get the cohesiveness of the group together that we haven't had before," Safeties Coach Deon Broomfield said. 
The defensive back room is stronger than ever thanks to the bond that's developed under Johnson's leadership. With over 40 starts in the position, Johnson has the experience and knowledge that it takes to develop young players into stars.
Every player in the locker room looks up to him because of his success on the field and personality off the field. Johnson put in his time on the team to earn that trust.
"When I'm in the same room or when kids are in the same room as a guy who's done it and done it at a high level, I think it buys instant credibility with the rest of the group," Broomfield said.
Looking back, Johnson doesn't recall a specific moment when he first moved into a leadership position, but his sophomore year is when he started taking on more responsibilities. Coming off another impressive season, the Cyclones had roles to fill and needed people to step up.
It was almost fate for Johnson as he looked to build off the early success he saw. It was clear that Johnson was a star in the making after his sophomore year.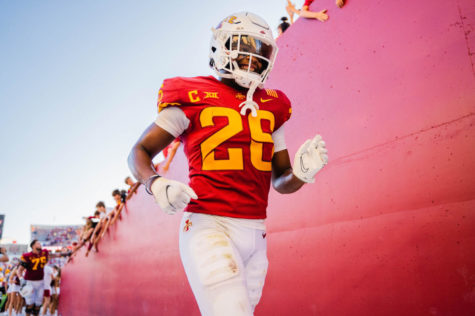 A breakout year would be an understatement, as he started every game in 2019, recording 60 tackles, seven tackles for a loss and 10 pass breakups. His pass breakups would tie him for first on the team and sixth in the Big 12.
It was only up from there.
Over the last three years, Johnson has done everything he can to do his part on the field and support the rest of the team off the field. During his time as a veteran leader, he's morphed his role into more of a coaching position for the younger players on the team.
"Honestly, that's where I get a lot of my tendencies from, just picking up off of him, piggybacking off what he's done and what he's brought to the team," cornerback Tayvonn Kyle said.
Johnson has been in the shoes of all the corners on the team. He knows what it takes to perform every Saturday and how to overcome setbacks that are bound to happen.
Having someone like Johnson on the team helped the defensive backroom grow to new heights over the last couple of years. He's taken his new pseudo-coaching position in full stride to help strengthen the team as a whole.
This hasn't gone unnoticed by his coaches either, as they have nothing but compliments to say about Johnson. Coaches know what it takes to be a leader on the team and know that the rest of the team believes in a guy like Johnson.
"They are very drawn into the fact that he does have that leadership aspect because it's true experience being able to go out there on Saturdays and execute at a high level," Broomfield said.
Whether watching film with the other defensive backs, doing walk-throughs or even organizing times to hang out off the field, Johnson puts in the work to create a stronger defensive back room.
Other players recognize what it takes to excel on the collegiate level and see how commonly Johnson excels. It's one thing to talk about how to execute and succeed every Saturday, but it's another to go out and consistently execute.
Johnson spent time developing himself into the elite player he is today, and now he wants to give back. He wants to help everyone around him because that's his purpose in life.
"When you talk about leadership, my motto has been like a servant leader and also being adaptable," Johnson said. 
Success on the field doesn't necessarily translate to being a great leader. Johnson knows this and knows what he needs to do to help those around him.
Adaptability is one of the characteristics of his leadership that he puts above the rest. Just like in the classroom, not everyone learns the same way when it comes to football.
A lot of the success Johnson has seen in his leadership role is how he adapts to different types of leadership for different people and ways of learning. The other way he excels as a leader is through his personality.
"He's the type of person that, I don't have a daughter, but I would imagine if I had a daughter, that's the type of kid you would want to date your daughter or your sister," Broomfield said.
Johnson is a genuine person and rarely shows up without a smile on his face. People gravitate towards him because he is a fun guy to be around.
Not only is he a great person to be around, but his humility makes him more down-to-earth. He's approachable because of his fun personality and easy to get along with because he focuses on the game rather than himself.
Johnson knows that even though he is a veteran on the team, he is still learning. He is always asking questions and trying to figure out how he can do his job better.
"He's just a guy that does everything the right way," Broomfield said.
Finding his purpose
The first thing anyone would notice about Johnson is how he talks about his fellow teammates. He's all smiles and has only good things to say about the guys around him.
Johnson sounds like a proud dad when he talks about the cornerback group he left and the safety group he joined. He knows the defensive back group has plenty of depth and talent and preached how great they are going to be in the upcoming season.
The way Johnson's face lights up when he talks about helping everyone around him makes it clear that he enjoys that more than anything. He said it himself; he was put on this earth to help people.
Around the time Johnson was put into more of a leadership role, he realized this passion as well. He wanted to help those around him in any way possible.
As he moved more into a coaching role on the defense, he was able to better help young players around him. The experience he's had in his large amount of starts helps the younger players see what works and what doesn't come game time.
When Johnson looks at film with younger players, he can mentor them on what he sees and thinks during certain situations. The biggest thing for him is that he knows what the young players might be thinking because he was thinking the same thing when he was in their shoes.
With the experience Johnson has now, he can help the younger players understand his mindset and thought process during every situation they may encounter on the field. His attitude toward helping those around him makes Johnson the great leader he is on the team.
Helping people was second nature to Johnson because of the people who influenced him throughout his life. When talking about his major influences, his family and coaches played a big role in building him up to who he is today.
The main people who molded him before he put on the pads were his mother, godfather and uncle Todd. He reflected on the impact they've had and the support system they've been.
On the field, every coach at Iowa State molded him into the player he is today. Head Coach Matt Campbell and Defensive Coordinator Jon Heacock trusted him to carry out their vision on defense and instilled in him the values of Iowa State football.
Johnson also grew close to his position coaches, Matt Caponi and Deon Broomfield. Any questions about his performance or plays were directed to the coaches who helped him better himself.
Johnson understands the importance of asking for help and has had people who were rocks in his life. Now, he wants to be there for those around him and help in any way possible. People around him see his passion and know that if they needed help with anything, they could turn to Johnson.
Back for a new challenge
One of the main talking points about the upcoming football season is, without a doubt, Johnson's move to safety. After four years at the cornerback position, Johnson decided to come back to Iowa State for one last ride.
The decision to return for another year in Cardinal and Gold was easy for Johnson, as he knew there was still room for improvement.
"First and foremost, I came back for coach Campbell because I still felt like they could further me off the field," Johnson said. "There were still areas I needed to grow as a person and who I wanted to be, and I feel like coach Broom, coach Caponi and coach Campbell still could help me in those areas."
Of course, transitioning into a new position is never easy, but Johnson was more than ready for the challenge. He said it took some getting used to, but his past experiences helped him along the way.
Johnson has been successful in every aspect of defensive back, so he should adapt in no time. Of course, he still has to do his due diligence since a new position can't be picked up automatically.
"At DB, you learn the hard way," Johnson said. "There is no easy way to learn DB."
It can be hard for an experienced guy to come into fall camp with a new role on the team. Especially for Johnson, who's seen a ton of success as a cornerback.
This hasn't stopped Johnson from coming out of the gates firing. Although it was daunting at first, his inquisitive mind and willingness to learn helped him grow faster than expected.
"I think when guys see an older guy step back and reach out for help, it allows the entire room to grow," Broomfield said.
Even though Johnson is a longtime member of the team, he understands he doesn't know everything. Coaches are there to answer any questions he has.
Broomfield talked about how Johnson is constantly picking the coach's brains about how he should react to different situations on the field. He even texts his coaches at all times of the day and night with questions that have been bugging him.
This willingness to learn is a huge reason the transition to safety went as well as it did. 
"He's learning the fundamentals and the techniques, and he's willing to grow," Broomfield said. "I think that's why he's had the type of career he's had up to this point."
Now that Johnson is fully bought into the safety role, the only thing to look at is the road ahead. When it comes to game day, Johnson will be ready to show the world how far he's come.
As the first football Saturday of the year approaches, Johnson knows what lies ahead.
"I fully believe in how I prepare. My preparation hasn't changed," Johnson said. "I'm still looking at tendencies, plays, offensive coordinators, what they like to do, tips and tells."
The move to safety might look like a big change on paper, but for Johnson, his role stays the same. He still has to be a leader, and Broomfield said the biggest thing he's seen from Johnson's move to safety is his growth as a leader.
Now that he's in the safety position, he can see the plays before they happen and relay information to the whole defense much easier. The move to safety will allow Johnson to grow in every facet of his game, and 2022 could be his year.
The mentality stays the same. Johnson needs to do his job as one of 11 eleven members of the defense to help the Cyclones win games.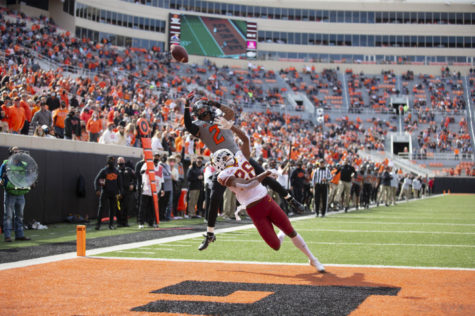 Iowa State defensive back Anthony Johnson Jr. defends Oklahoma State wide receiver Tylan Wallace in the end zone during the Cyclones and Cowboys game Oct. 24 , 2020, in Stillwater, Oklahoma. Courtesy of Bruce Waterfield/OSU Athletics
Better than ever
It's hard to top what's been done in recent years. Without a doubt, Iowa State is looking better under Campbell than they ever have been.
This holds true for the defensive back position as well. 
"It was probably the closest we've been as a unit," Tayvonn Kyle said. "We feel less like we're competing for a position, for the same position that is, and more like a unit, working together. Iron sharpening iron type of deal."
Reps were hard to come by last season. There was almost too much talent in the loaded cornerback room.
Now that Johnson moved to safety, the entire squad can move away from the competition mindset and more into the teamwork mindset. For the whole defensive back group to see success, they need to work as an organized unit.
So far, they are looking more organized than ever.
"We're one. I know that's maybe cliche to say, but that's genuinely how I would describe our locker room," Johnson said.
The leadership Johnson has on the team is a large key to their success. Just like anything, Johnson is still learning how to be a better leader. As he grows, everyone grows around him.
That hard work doesn't stop when he leaves the field either. Johnson works hard day in and day out to better himself in every way possible.
There's a reason he was selected to the Academic All-Big 12 First Team in 2021, with two Second Team selections before that. Johnson's willingness to better himself is why he's back for more.
"Ultimately, for me, I want to be the best human I can, the best person I can," Johnson said. "I can't just major in football and expect to have a good life or be a good person. I have to actually put time and effort into my identity, who I want to be and where I want to go."
Without a doubt, Iowa State fans could see the best Anthony Johnson yet. He said that the switch to safety might end up being the best decision for his football career.
Time will tell, and right now, he's just looking to the season ahead. However, if he keeps doing what he's been doing, anything is possible.
"Man, I'm just being myself, and myself is enough," Johnson said.