Xavier Hutchinson: Success derived from discipline
Iowa State Football Coach Matt Campbell has preached a process that involves all of the players buying in, and working hard both on and off the field to be the best that they can be. 
Cyclone receiver Xavier Hutchinson has been the embodiment of this over his first two years at Iowa State. 
Hutchinson's parents, Trent and Denise, both served in the Navy, Trent as a chef and Denise in the medical field. Hutchinson said his family was run in a way that he knew what was expected of him, and it was up to him to meet those expectations.
"My parents were very, I wouldn't say strict, but they were very disciplined," Hutchinson said. "They knew what they wanted out of their son. They wanted me to be a well-rounded man, and, you know, someone that can contribute to society."
Hutchinson believes that growing up in a family that had this type of discipline is a major reason he became the player that he is today. The good things that happened to Hutchinson over his childhood had to be earned.
"There was no waking up at 10 o'clock, nine o'clock, 11 o'clock, like some other kids did," Hutchinson said.
Hutchinson was expected to help out around the house doing things such as mowing the grass and other Sunday chores, and he feels that it has shaped the way he is today. 
Instead of going about his days with a bad attitude, Hutchinson did what was asked of him on a daily basis. Hutchinson said that this has paid dividends in his life, making him better as a player and a person.
"I definitely feel like it's made me a better man," Hutchinson said.
Iowa State's running backs and wide receivers coach Nate Scheelhaase has certainly noticed the positive impact that Hutchinson's attitude has had on the rest of the receiving core, especially sophomore Jaylin Noel.
"I can remember a year ago when Jaylin Noel came in and, you know, you almost felt like everything that Jaylin was doing, he's looking out of the corner of his eyes, seeing how [Hutchinson] was doing things," Scheelhaase said.
Noel even said himself that when he first practiced with the team, the first person he looked at was Hutchinson, because he had both the mentality and the on-field accolades to back it up.
Hutchinson has made the All-Big 12 First Team in both 2020 and 2021 and is looking to add another strong season to his name. In 2021, Hutchinson managed to tally 987 yards and five touchdowns.
Iowa State quarterback Hunter Dekkers said Hutchinson's drive and love of the game is unmatched, and he feels that it has rubbed off on him and on members of the receiving core.
What stood out the most to Dekkers as soon as he filled in for former Cyclone Brock Purdy was how even after a tough week of workouts or late on a Sunday, Hutchinson was ready to run routes for hours.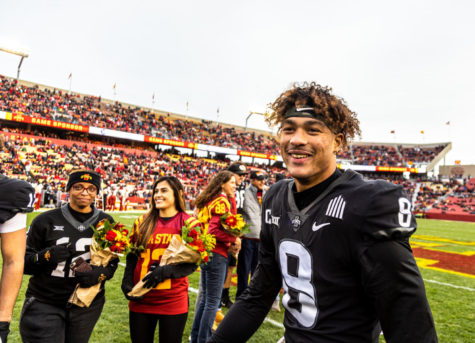 Hutchinson's parents being in the Navy was not the only thing that has helped him flourish. Denise played basketball at Wisconsin, while Trent ran track at Georgia Southern.
Scheelhaase believes that having collegiate athletics experience in his family is another major factor in the drive that Hutchinson has.
Hutchinson went to junior college out of high school but was struggling to get the playing time he had hoped for. With not much to display other than some practice film, Hutchinson did not expect to receive any offers.
"Coach Campbell said he saw something in me," Hutchinson said.
Hutchinson received an offer from Iowa State, and both Hutchinson and Campbell got more than they could have ever hoped for.
"What I'm most grateful for is his approach to how he's gone about his business in terms of his own process," Campbell said. "How he practices, how he is in the weight room, what is the approach to becoming his best, that's been really fun to watch."
Out of all of the people that are a part of Iowa State football, Matt Campbell may be the one that holds Hutchinson in the highest regard.
"It spreads like wildfire through your program because I think all the young players in the program, they want to be like the guys that are having success on the field," Campbell said.
Scheelhaase saw how driven Hutchinson was to take advantage of the opportunity that he had in coming to Iowa State. He said that Hutchinson was not phased coming in, and has proved why he belongs in the Big 12.
No matter who you ask in the locker room, one of the first things the Cyclones will mention when talking about Hutchinson is how focused he is on being the best version of himself. This is something that Scheelhaase saw in him from the day he arrived on campus.
"When he came here, you could see that he was on a mission," Scheelhaase said. "And I think that he was comfortable, being in a new environment, pushing himself, you know, allowing himself to just find ways to get better."
Scheelhaase attributed this attitude that Hutchinson came in with to how his parents raised him. He mentioned that while someone can be born with a drive to succeed, it takes a strong support system to truly thrive.